Documentation

Characters

Candy


Candy is an intrepid little female dog who isnt fear the combat.
She is the main character of this game and she will
do everything to save Candy World
and the Lillians.

---
Toopy

Toopy is an intelligent little male dog who guide Candy in this
movemented place which is Candy World. He's really
proud of his little rubber ball that he brings
everywhere in the game.

---
"Bonus: Bones, Crescents and Hearts"
---
Golden Bones
---
Heart Dream Key
---
Tips and Tricks
"Spring R"
In that game, you will have to jump great height,
but Candy dont jump at great height.
She will need to be pushed with the help of "Spring R"
Those Springs must be activated with the "Button R"
who lies somewhere in the game.


---
Papillons et hautes voltiges
Everywhere in Candy World and other side countries are Butterflies.
They flies in the flower fields and drink nectar.
To make a butterfly fly with you, you must activate the Button P
When you will have found the Button P to touch it will be
suffisant to fly with the Butterfly.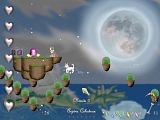 ---
Free the power of Toopy's Ball
Toopy likes his rubber ball alot. Before that event he wasnt used to give it; now he left it to Candy.
Unnicely she got stolen by Doctor PicPic again.
You must press the B Switch to get Toopy's Ball back.

---
The freesbies et the boomrang
Everywhere in Candy World are freesbies and boomrang... Take them by pressing [Enter], shoot by pressing the same button
or stop their flight with [M]
The boomrang must be dropped with [M]
before being reused.


---
Enter Candy's House
In a place of Heaven are Candy's House.
Candy Rests in it since the end of the challenges of Candy World Tome II.
You can visit the inner side of the house by pressing the [up] Button...
In the house you can see Candy's Collar, which is on a pedestal.
Candy got printed by the magic of the collar so she dont need
to hold it again to use magic.
You can go at the top of the house and grabbing
the recovery heart by jumping with [Space].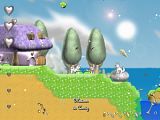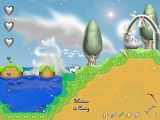 Candy et "Les Éléments"
---
In the Tome I of Candy World, you may collect
special elements to destroy ennemies.
Fire

---
Ice

---
Wind

---
Dust

---
Light

---
Shadow

---
Electricity

---
Rainbow

---
Candy World Adventures IV: The Mirages of Starfield!
---
HitWebCounters
---
Copyright © 2009-2019
for Xilvan Design.
---